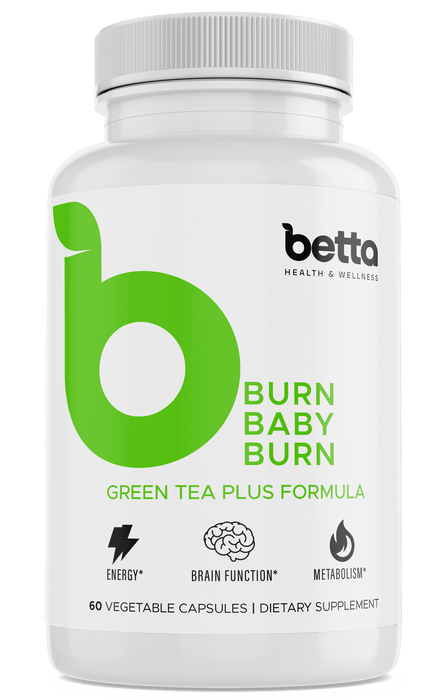 BURN BABY BURN: Green Tea Fat Burner
Brain Support Green Tea Supplement – All-natural, Vegan, Non-GMO Dietary Supplement – for Focus, Memory, Concentration, and Neuro-nutrition – 60 Capsules 
Increase Energy Levels,
Improve Brain Function
Boost Metabolism
100% gluten-free and non-GMO
Maintains overall health and wellbeing 
THE IDEAL GREEN TEA SUPPLEMENT FOR YOU
Do you want to feed your brain and enhance brain functions while still maintaining a healthy daily diet? Are you looking for that extra energy boost that will keep you going throughout the day? If so, this highly nutritious green tea food supplement is exactly what you are looking for. Here's why:
A supreme brain booster
With a myriad of nourishing, revitalizing nutrient benefits, we've formulated this brain health supplement to ensure you will have sharper focus, easier recall, and correct judgment… let's just say you'll be in 'the zone'… to be fully immersed in whatever you do. Grab Yours! 
It's all-vegan
Our mission is to produce and deliver health boosting supplements that will not only improve the quality of your life but also keep you happy too. Our vegan, 100% pure, all-natural formulation makes this brain complex supplement perfect for anyone and everyone.
Promotes overall health too
Each capsule delivers vital nutrients and vitamins that will boost and enhance normal brain function, Keeps you stimulated while blocking out anxiety and gives that natural energy boost you've been missing… you'll love it!
For Optimum Body and Mind Health, Click Add to Cart now!